jaffrayPress – "Publishing Insight"
JaffrayPress encourages, coordinates, and publishes resources generated by Jaffray Centre related initiatives. As the publishing arm of the Centre, jaffrayPress seeks to capture the essence of some of Jaffray's best work.
Our recent publications include: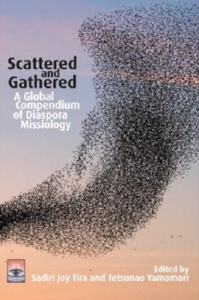 The Diaspora Network in partnership with the Jaffray Centre released Scattered and Gathered: A Global Compendium of Diaspora Missiology. Dr. Sadiri Tira (diasporaNet Convener) and Dr. Charles Cook (Jaffray Centre Director) had varying degrees of involvement in this project.
Focus of Publication: "The 21st Century is marked by mass migration. Massive population movements of the last century have radically challenged our study and practice of 'mission fields.' Where the church once rallied to go out into 'the regions beyond,' Christian missions is currently required to respond and adapt to 'missions around.'  In this multi-authored, inter-disciplinary volume, leading evangelical theologians, bible scholars, missiologists, and migration strategists and practitioners analyze the development of missions to the migrants and develop an understanding of the contemporary church's opportunities and responsibility vis-à-vis Diaspora Missiology: 'a missiological framework for understanding and participating in God's redemptive mission among peoples living outside their places of origin.'"
To read more about the editors and what people are saying about the book click here.

Diaspora Portraits is a compilation of reflections by the Jaffray Centre diasporaNet Convener, Dr. Sadiri Joy Tira.
The Book examines themes related to the diaspora. Over the centuries, the term "diaspora"has been added to contemporary vocabulary with reference to the millions of "scattered people" or "people on the move" who for various reasons have had to cross national borders for a better life. Other terms such as "migration," "emigration" and "immigration"have been used to reference this large global group of "people on the move." 

The editing and publishing of The God You May Not Know was done in partnership with Ron Brown, Jaffray Centre Senior Advisor and Convenor of the keeperCare intiative. Ron's primary role is as Missions Coach with the Western Canadian District of the C&MA of Canada. The volume was published by the C&MA of Canada. 
The God You May Not Know was created to communicate parts of the Canadian Alliance story and in the process inspire a new generation of Canadians to find dynamic 21st century ways of engaging in the mission of God. The book is available in English and French.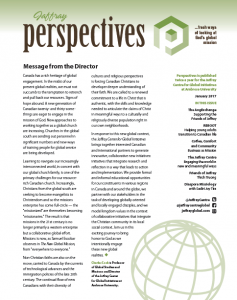 The Jaffray Centre newsletter Perspectives is published twice a year. Each edition of Perspectives highlights stories about the various initiatives the Jaffray Centre is working on, and introduces some of the great people who make it all possible.