globaLearning Instructors
Pat Bhatti was born in Punjab, India to a family whose ancestors believed in Hinduism for generations. It was through the labors of Christian missionaries that his grandfather came to faith in Christ.  Pat's parents followed Christ and raised him to fear God.  After graduating college, Pat served in a missionary hospital and later taught in a Christian High School in the Punjab. In 1972, he moved to Canada with his wife and four children. With the influx of Punjabis to Canada in the eighties and hardly any outreach for this people group, Pat was wondering who would share the good news with them. It was then the Lord called him into ministry. As an ordained pastor with C&MA, Pat has been serving the Multicultural Alliance Church in Edmonton for 24 years and reaching out to the South Asians through market place evangelism.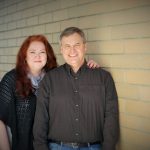 Rick (PhD.) and Patricia Love (MA)

Rick Love, M.Div. and Ph.D. from Trinity International University (Deerfield, Illinois) taught at seminaries in the Philippines and Canada before becoming Director of "Love New Canadians," a consulting ministry that equips local churches for ministry with immigrants.  Patricia Love has masters degrees in Intercultural Studies and in Teaching English as a Second Language.  Both Rick and Patti served as missionaries in the Philippines for 11 years, and both are ordained with the Christian and Missionary Alliance.  Patti became Pastor of Intercultural Ministries at Foothills Alliance Church in Calgary in 2006 and continues to serve new Canadians through this ministry.  Rick and Patti have four adult children. www.lovenewcanadians.ca
Sadiri Tira, more commonly known as Joy, is a missions practitioner who travels extensively around the globe mobilizing Christians in diaspora, particularly the globally scattered Filipinos to help fulfill the Great Commission. Born and raised in the Philippines, Joy and his wife Lulu immigrated to Canada in 1981 and are now naturalized Canadians. They are based in Edmonton, Alberta, Canada — one of Canada's top destinations for new immigrants and foreign workers. Joy serves as the Lausanne Movement's Senior Associate for Diasporas, and diasporaNet Convener at the Jaffray Centre.
A practitioner couple
The presenters are practitioners who have lived and worked among Muslims from various nations over the past two decades.  They currently direct a centre for new immigrants and refugees that serves predominately Muslim people.  They have a passion to love our Muslim neighbours in word and action as well as to equip the body of Christ to do the same.