firstPeoples – Institute for Indigenous Research (IIR)

The Institute for Indigenous Research (firstPeoples) provides a forum in which to engage in a variety of initiatives that includes the research and study of Indigenous Peoples in North America and around the world.
The firstPeoples initiative seeks to create a body of research that assists Indigenous peoples around the world to reflect with greater understanding on the culture and traditions of their people.  The IIR seeks to do this by:
encouraging the Indigenous community to develop and to articulate an Aboriginal perspective on theology and practice.
facilitating the development and implementation of Indigenous learning styles and world views through the development of a body of written work that addresses biblical, theological, and ethical issues from the Indigenous perspective.
seeking to facilitate the creation of a written theological foundation for the development of new paradigms to reach local Indigenous people with the Good News of Jesus; and the contextualization of the Good News in Indigenous communities.
developing theological partnerships with other cultural communities of faith which will ensure the voice of Jesus is heard and will ensure biblical orthodoxy in all things.
providing genuine dialogue with the historical traditions of Christianity that value the written and living resources encompassed in these traditions.
Jaffray Convener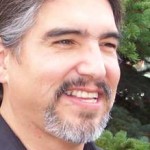 Ray Aldred, PhD. (cand.) Director
firstPeoples Network
Reverend Ray Aldred is ordained with the Christian and Missionary Alliance in Canada.
He is status Cree from Treaty 8.  Born in Northern Alberta, he now resides with his wife in Richmond, BC, Canada.  Ray is the Director of the Indigenous Studies Program at Vancouver School of Theology. He is former Director for the First Nations Alliance Churches of Canada, now committee member, where he worked to encourage pastors ministering to Indigenous people.  He is the chairperson of Indigenous Pathways and the North American Institute of Indigenous Theological Studies.  He is the former chairperson of the Native Ministries Council for the Evangelical Fellowship of Canada. Ray also has had the privilege of addressing several college conferences and meetings related to cross-cultural ministry.  Ray's passion is to help as many as possible hear the gospel in their heart language.
Ray and his wife, Elaine are also involved in ministry to help train people to facilitate support groups for people who have suffered abuse. Ray and Elaine have four children, Jenny, who has graduated from the University of Regina and the Alliance University College, is married and lives in Richmond, British Columbia, where she is an elementary school teacher; Raymond, who is pursuing a PhD degree in Philosophy at the McGill University in Montreal, Quebec ; Catherine, who is married and lives in Toronto, Ontario training to be a translation coordinator for the Canadian Bible Society,  and Rueben who works in the Oil Field in Northern Alberta.