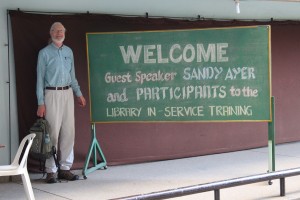 Sandy Ayer, director of Library Services and Archivist at Ambrose University College, recently travelled to Davao, Philippines, to conduct library assessments and seminars at several schools there, as part of Jaffray's angExchange.  He comments:
The highlight of my recent trip to Davao, Philippines on behalf of the Jaffray Centre had to be the seminar I led for local theological librarians on the future of libraries.  I confess to having been quite nervous about this presentation. "This has to be about the future of their libraries," I thought. "What do I know about that?"   

Well, I had a chance to assess three libraries prior to that presentation, so I got some idea of the work these libraries have accomplished despite the difficulties they face because of lack of money and personnel.  So I decided to turn the seminar from a didactic presentation into a moderated discussion.  The 26 participants discussed such topics as: What does your library do well?  If you could change one thing about your library, what would it be?  In this time of under-supply, how can we attract librarians to our institutions?  In what ways could our libraries collaborate for our collective benefit? 
In discussing the final questions, we discovered that the theological libraries in the Davao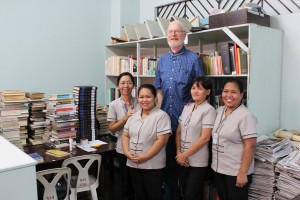 area had been working in isolation from one another for decades.  Toward the end of the discussion, a respected librarian stood up and invited her colleagues to meet together in a month's time to discuss ways of working together.  That was the very thing I had hoped would happen!  (I felt like dancing, but I knew somebody – probably me – would get hurt if I did!)
Read another angExchange story here.