EMS Canada Conference
The 2018 Evangelical Missiological Society's annual conference will be on April 6, 2018.  The conference will be held live at Tyndale Seminary in Toronto, ON, and will be live streamed to centers across Canada, including the Jaffray Centre in Calgary, AB. This year's theme is: Mission and Evangelism in a Secularizing World.
Plenary Speakers: Connie DenBok, Ed Smither, and Sam Chaise


Date: Friday, April 6, 2018
Location:  Live Streamed in Calgary, AB
For more information and to register, click here.
Questions? Contact jaffray@ambrose.edu 
---
DAI Leadership Seminar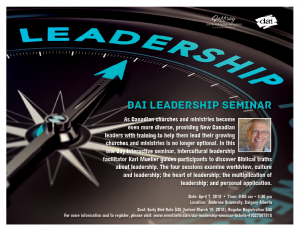 As Canadian churches and ministries become even more diverse, providing New Canadian leaders with training to help them lead their growing churches and ministries is no longer optional. In this one day interactive seminar, intercultural leadership facilitator Karl Mueller guides participants to discover Biblical truths about leadership. The four sessions examine worldview, culture and leadership; the heart of leadership; the multiplication of leadership; and personal application.
Instructor: Karl Mueller
Date: Saturday, April 7, 2018
Time: Registration 8:30 am; Seminar 9:00 am-3:30 pm
Location: Ambrose University, Calgary AB
Cost: $45 (includes lunch). Early Bird Rate: $35 ends March 25, 2018.
– Registration closes April 3, 2018
For more information and to register click here.
---
Refugee Claimants: A Hidden Population on the Church's Doorstep
The arrival of asylum seekers increased significantly across Canada and Alberta in 2017. Faith groups play a significant role in helping refugees settle into Canada. Join us for a morning of discovering how Journey Home Community is partnering with churches in Metro Vancouver to extend support and care to this hidden refugee claimant population. Learn how this model may be applied to the Calgary context.
Speakers: Dr. James Cresswell, Ambrose University
Brad Kinnie & James Grunau, Journey Home 
(Learn more about Journey Home Community at www.journeyhomecommunity.ca)
Date: Saturday, April 21, 2018
Time: 9:00 am- 12:00 pm *
Location: Ambrose University
Cost: Free
For more information and to RSVP click here.
* Those interested in continuing the conversation are invited to stay for the afternoon to explore new ways for Calgary churches to engage with refugee claimants who continue to arrive in our city. Conversation and next steps: 1:00-3:00 pm.
---
Kairos Course
Kairos "allows people to grasp hold of God's big, redemptive plan and see the gospel reach the ends of the earth." Kairos looks at the four essential areas of mission concern: 1) Biblical – God's purpose and plan, Israel, The Covenant People, and The Messiah, the Message and the Messengers; 2) Historical – Expansion of the world Christian movement; 3) Strategic — Mission strategy, the task remaining, and the world Christian teamwork; and 4) Cultural — Cross-cultural considerations.
Date: May 28-June 1, 2018
Time: 9:00 am to 5:00 pm (except Thursday 9:00 am – 8:30 pm)
Location: Ambrose University
Cost: $125; Early bird rate: $99.
Register here.
* The Kairos course can also be taken for credit at Ambrose University. Contact jaffray@ambrose.edu for more information.
---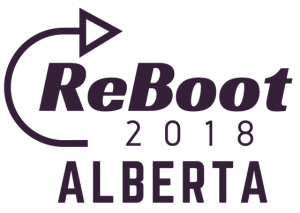 ReBoot 2018
A transition retreat for TCK's aged 17-20 who are currently or have recently returned to Canada.
Date: August 4-11, 2018
Location: Ambrose University, Calgary AB
For more information and to register click here.
---
Jaffray Missiological Symposium 
The Jaffray Centre is excited to be planning the first annual Jaffray Missiological Symposium in 2018 on the topic of Diaspora in Canada–Migration, Multiculturalism, and the Church.  Stay tuned for more details!