Diaspora and the Local Church in Canada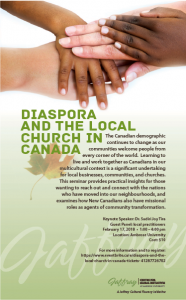 The Canadian demographic continues to change as our communities welcome people from every corner of the world. Learning to live and work together as Canadians in our multicultural context is a significant undertaking for local businesses, communities, and churches. This seminar provides practical insights for those wanting to reach out and connect with the nations who have moved into our neighbourhoods, and examines how New Canadians also have missional roles as agents of community transformation.
Keynote Speaker: Dr. Sadiri Joy Tira; Guest Panel: local practitioners
Date: Saturday, February 17, 2018
Time: 1:00-4:00 pm
Location: Ambrose University, Calgary AB
Cost: $10
For more information and to register click here. 
---
EMS Canada Conference
The 2018 Evangelical Missiological Society's annual conference will be on April 6, 2018.  The conference will be held live at Tyndale Seminary in Toronto, ON, and will be live streamed to centers across Canada, including the Jaffray Centre in Calgary, AB. This year's theme is: Mission and Evangelism in a Secularizing World.
Plenary Speakers: Connie DenBok, Ed Smither, and Sam Chaise
Date: Friday, April 6, 2018
Location:  Live Streamed in Calgary, AB
More information will be available soon. If you are interested in attending contact jaffray@ambrose.edu
---
DAI Leadership Seminar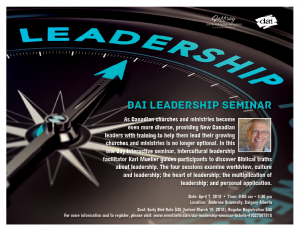 As Canadian churches and ministries become even more diverse, providing New Canadian leaders with training to help them lead their growing churches and ministries is no longer optional. In this one day interactive seminar, intercultural leadership facilitator Karl Mueller guides participants to discover Biblical truths about leadership. The four sessions examine worldview, culture and leadership; the heart of leadership; the multiplication of leadership; and personal application.
Instructor: Karl Mueller
Date: Saturday, April 7, 2018
Time: Registration 8:30 am; Seminar 9:00 am-3:30 pm
Location: Ambrose University, Calgary AB
Cost: $45 (includes lunch). Early Bird Rate: $35 ends March 18, 2018.
– Registration closes April 3, 2018
For more information and to register click here.
---
Jaffray Missiological Symposium 
The Jaffray Centre is excited to be planning the first annual Jaffray Missiological Symposium in 2018 on the topic of Diaspora in Canada–Migration, Multiculturalism, and the Church.  Stay tuned for more details!