IDI Intercultural Competency Training
The Jaffray Centre is partnering with the TIM Centre at Tyndale to offer an online Intercultural Competency Training module this fall. The module is designed to help equip New Canadians in ministry to engage with the diverse Canadian context they are ministering in.
Date: September 2017-January 2018
Registration is limited for this pilot project; if interested please contact jaffray@ambrose.edu for more details.
---
DAI Leadership Seminar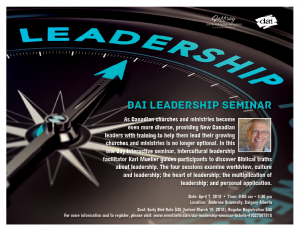 As Canadian churches and ministries become even more diverse, providing New Canadian leaders with training to help them lead their growing churches and ministries is no longer optional. In this one day interactive seminar, intercultural leadership facilitator Karl Mueller guides participants to discover Biblical truths about leadership. The four sessions examine worldview, culture and leadership; the heart of leadership; the multiplication of leadership; and personal application.
Instructor: Karl Mueller
Date: April 7, 2018
Time: Registration 8:30 am; Seminar 9:00 am-3:30 pm
Location: Ambrose University, Calgary AB
Cost: $45 (includes lunch). Early Bird Rate: $35 ends March 18, 2018.
– Registration closes April 3, 2018
For more information and to register click here.
---
Jaffray Missiological Symposium 
The Jaffray Centre is excited to be planning the first annual Jaffray Missiological Symposium in 2018 on the topic of Diaspora in Canada–Migration, Multiculturalism, and the Church.  Stay tuned for more details!