Kairos Course
Kairos "allows people to grasp hold of God's big, redemptive plan and see the gospel reach the ends of the earth." Kairos looks at the four essential areas of mission concern: 1) Biblical – God's purpose and plan, Israel, The Covenant People, and The Messiah, the Message and the Messengers; 2) Historical – Expansion of the world Christian movement; 3) Strategic — Mission strategy, the task remaining, and the world Christian teamwork; and 4) Cultural — Cross-cultural considerations.
Date: May 28-June 1, 2018
Time: 9:00 am to 5:00 pm (except Thursday 9:00 am – 8:30 pm)
Location: Ambrose University
Cost: $125; Early bird rate: $99.
Register here.
* The Kairos course can also be taken for credit at Ambrose University. Contact jaffray@ambrose.edu for more information.
---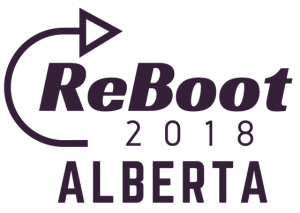 ReBoot 2018
A transition retreat for TCK's aged 17-20 who are currently or have recently returned to Canada.
Date: August 4-11, 2018
Location: Ambrose University, Calgary AB
For more information and to register click here.
---
Jaffray Missiological Symposium 
The Jaffray Centre is excited to be planning the first annual Jaffray Missiological Symposium in 2018 on the topic of Diaspora in Canada–Migration, Multiculturalism, and the Church.  Stay tuned for more details!
---
Mosaic: Evening of Worship, Prayer and Intercultural Exchange
Time: Tuesday June 26th, 7:00 – 9:00 pm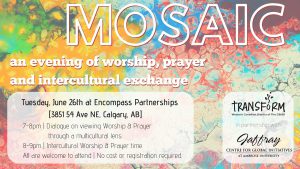 Place: Encompass Partnerships (3851 54 Ave NE, Calgary), Main Sanctuary
Cost: ​There is no cost to attend this event. A great reason to come!​
Description: Canada is becoming an increasingly multicultural country. How is your worship and prayer ministry positioned to minister in this culturally diverse landscape? The goal of this event is to facilitate a time of intercultural dialogue on the topics of worship and prayer. It will also provide an experiential environment where attendees can experience being led in worship and prayer through a variety of ethnic forms. If you want to grow in your ability to lead worship and connect with others from different cultural backgrounds, this event is for you! (more…)