About Robert A. Jaffray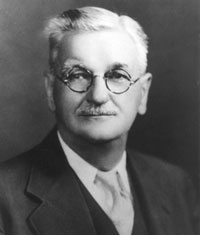 The Jaffray Centre's name was derived from a well-known early 20th century new Canadian family of Scottish descent. The Jaffray family immigrated to Canada in the late 1800s. Over time they developed a number of businesses, not the least of which was a newspaper company that they owned for the better part of 40 years — a newspaper that today we know as "The Globe and Mail".
Robert Jaffray Sr. (father) was a builder of our nation, a respected business man. Eventually he ascended to the Vice-Presidency of the Imperial Bank of Canada (today the CIBC) and later served Canada for many years as a Liberal Senator. So you can appreciate the disappointment of the Senior Jaffray when his son informed him that he would not take over the family business.
So that is how Robert A. Jaffray, the centre's namesake and a young man blessed with many of the same creative and entrepreneurial traits of his father, changed direction in response to the call of God on his life. Robert Jaffray's obedience to that call led him to take a different path than family and friends anticipated. Jaffray went on to apply his many gifts and skills as a missionary in Southeast Asia. Eternity has forever been changed because of Jaffray's total commitment to be used of God in spite of his many physical illnesses.
Robert A. Jaffray went on to become a renowned global citizen and mission statesman whose commitment to God, creative entrepreneurship, innovative spirit, and passion for people were supported by his incredible visionary leadership. Jaffray's life and legacy speak to the core values and the can-do spirit of the Jaffray Centre for Global Initiatives.