Welcome to the Jaffray Centre
The Jaffray Centre is an integration point for global initiatives at Ambrose University. A combination incubator/greenhouse of sorts where new ideas, collaborative initiatives and fresh ways of looking at God's global mission are nurtured. The Jaffray Centre is made up of  people like you and me who want to engage the world around them in new and meaningful ways. Through collaborative project development, training and research projects, the Jaffray Centre seeks to rekindle and ignite a passion for God's unending concern for people.
---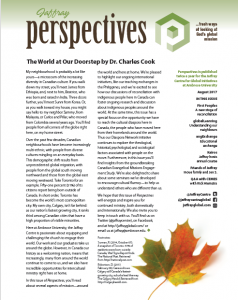 Check out the second edition of the Perspectives newsletter. It's filled with stories about the projects we've been working on and the people who have made it possible.  You can get your copy here.
---